Sram force22, more performance and less weight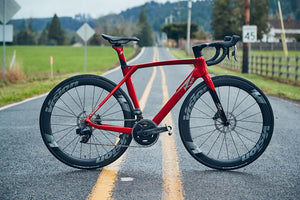 The RP2
SRAM Force eTap AXS
The RP paired with SRAM's industry leading wireless electronic groupset.
The RP Frameset is fully customizable with whatever groupset you desire! We can either build your dream bike in our warehouse, or you can start your own passion project! email us at Info@a2bikes.com for build options!
Frameset comes with ONLY: Frame, Fork, and Seat Post.
Weight: 1500g
RP Component Guide
| | | | | | |
| --- | --- | --- | --- | --- | --- |
| | RP1 | RP2 | RP2HRD | RP2e | RP3e |
| Frame | T700 UD Carbon Fiber | T700 UD Carbon Fiber | T700 UD Carbon Fiber | T700 UD Carbon Fiber | T700 UD Carbon Fiber |
| Fork | A2I-Fork | A2I-Fork | A2I-Fork | A2I-Fork | A2I-Fork |
| Seatpost | A2 ASP | A2 ASP | A2 ASP | A2 ASP | A2 ASP |
| Stem | Vision PCR Stem Alloy (S/M:100; L/XL:110) | Vision PCR Stem Alloy (S/M:100; L/XL:110) | Vision ACR Stem (S/M:100; L/XL:110) | Vision ACR Stem Carbon (S/M:100; L/XL:110) | Vision ACR Stem Carbon (S/M:100; L/XL:110) |
| Wheels | Vision Team 30, Thru Axel, Tubeless Ready | Vision Team 30, Thru Axel, Tubeless Ready | VVision Team 30, Thru Axel, Tubeless Ready | Vision Team 30, Thru Axel, Tubeless Ready | Vision Team 30, Thru Axel, Tubeless Ready |
| Tires | Vittoria RosaCorsa, 25mm | Vittoria RosaCorsa, 25mm | Vittoria RosaCorsa, 25mm | Vittoria RosaCorsa, 25mm | Vittoria RosaCorsa, 25mm |
| Shifter | SRAM Rival Mechanical Double Tap | SRAM Force Mechanical Double Tap | SRAM Force | SRAM Force AXS eTap | SRAM Red AXS eTap |
| Front Derailleur | SRAM Rival22 Mechanical | SRAM Force22 Mechanical | SRAM Force | SRAM Force AXS eTap | SRAM Red AXS eTap |
| Rear Derailleur | SRAM Rival22 Mechanical | SRAM Force22 Mechanical | SRAM Force22 Mechanical | SRAM Force AXS eTap | SRAM Red AXS eTap |
| Crank | Vision Omega EXO 52/36 (Arm Length: S/M 170/L/XL 172.5) | SRAM Force 52/36 (Arm Length: S/M 170/L/XL 172.5) | SRAM Force 52/36 (Arm Length: S/M 170/L/XL 172.5) | SRAM Force AXS eTap 48/35 (Arm Length: S/M 170/L/XL 172.5) | SRAM Red AXS eTap 48/35 (Arm Length: S/M 170/L/XL 172.5) |
| BB | PF386 | PF386 | PF386 | PF386 | PF386 |
| Brakes | TRP Spyre Mechanical Disc | TRP Spyre Mechanical Disc | SRAM Force - Hydraulic | SRAM Force - Hydraulic | SRAM Red - Hydraulic |
| Brake Rotors | TRP Centerlock 25-160 | TRP Centerlock 25-160 | TRP Centerlock 25-160 | TRP Centerlock 25-160 | TRP Centerlock 25-160 |
| Cassette | SRAM PC-1110 Rival 11-28 | SRAM Force PC-1130 11-28 | SRAM Force PC-1130 11-28 | SRAM Force XG-1230 AXS 10-28 | SRAM Red XG-1290 AXS 10-28 |
| Chain | KMC | SRAM CN-1130 | SRAM CN-1130 | SRAM Force AXS 12-Spd Chain | SRAM Red AXS 12-Spd Chain |
| Saddle | Velo | Velo | Velo | Velo | Velo |
| Handlebar | Vision TriMax, Alloy (400/420) | Vision TriMax, Alloy (400/420) | Vision TriMax, Alloy (400/420) | Vision Metron Aero, Carbon (400/420) | Vision Metron Aero, Carbon (400/420) |