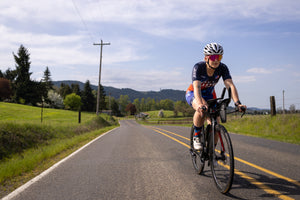 Made by athletes,
for athletes.
A new approach to performance cycling
A human approach to bike production.
We started A2 due to lack of options in the triathlon bike industry. Our small, but mighty, team took it upon themselves to source and build better bikes for serious performers.
The Story
A2 (A Two) was founded by AJ Alley, a newbie triathlete in search of an affordable tri bike. When he couldn't find one, he asked the same question all triathletes ask at some point: Why are tri bikes so expensive?
To get the answer, he started investigating – first, by calling and visiting bike shops, then by reaching out to manufacturers. "All of a sudden I started noticing bikes everywhere. Being in Portland, everyone rides a bike. My family would get annoyed every time I trailed off in the middle of a conversation because a bike was rolling by and I had to look and understand what made it appealing, and good or bad." 
When he couldn't get a satisfactory answer, he went straight to the source – Taiwan, the second largest manufacturer and exporter of carbon fiber bicycles in the world. While touring factories and discussing the future of cycling with industry leaders, one thing was clear: The cost of a Triathlon bike shouldn't – and didn't need to be the impediment to experiencing this great sport.
From this, A2 was born.
By working closely with the top names of the triathlon industry, including Shimano, SRAM, FSA, and Vision Tech USA, Castelli Cycling, and Profile Design, Alley was able to design a high-quality carbon-fiber triathlon bike at a low price point. The first bike from A2, The Speed Phreak, released in 2017, took the triathlon world by storm, gaining the respect of PR Seekers, and new triathletes everywhere. In 2018 Lava Magazine named it "a solid starter bike capable of putting its dukes up against the Cervelos of the world." 
In 2020, A2 hired Kevin Quan Studios to improve the Speed Phreak (SP) for the modern Triathlete. Released in 2022, the SP improved upon the Speed Phreak in every category, proven by extensive CFD analysis and in the Wind Tunnel. That year, Chris Foster (Editor-in-Chief of Triathlete Magazine) named the SP one of the "Best Triathlon Bikes" by Triathlete Magazine.
Recently announced, A2 has taken the next step in providing a high-quality premium tri bike to all U.S. Triathletes as the Official Bike Partner of USA Triathlon, and their High-Performance and Development Teams. This partnership will allow A2 to extend its reach and provide even more triathletes and aspiring triathletes to achieve their health, wellness, and sport goals.
A2 has always been focused on lowering the cost barriers present in our sport, and providing the opportunity to more people to race and ride. A2 pioneered direct-to-consumer bike sales from their founding. In addition to avoiding mark-ups associated with selling through third parties, the direct-to-consumer model allows for individualized advice and unparalleled customer service from A2 representatives.
We're proud to have brought affordable triathlon bikes to the market as the best starter triathlon bike and tri bike for seasoned triathletes.
High quality, high performance, high value – have it all. 
Get in touch
Real people, ready to help you get your next perfect bike.